Business Domains
USS continues to bring vitality to the used vehicle distribution market, based on its core business of auto auctions.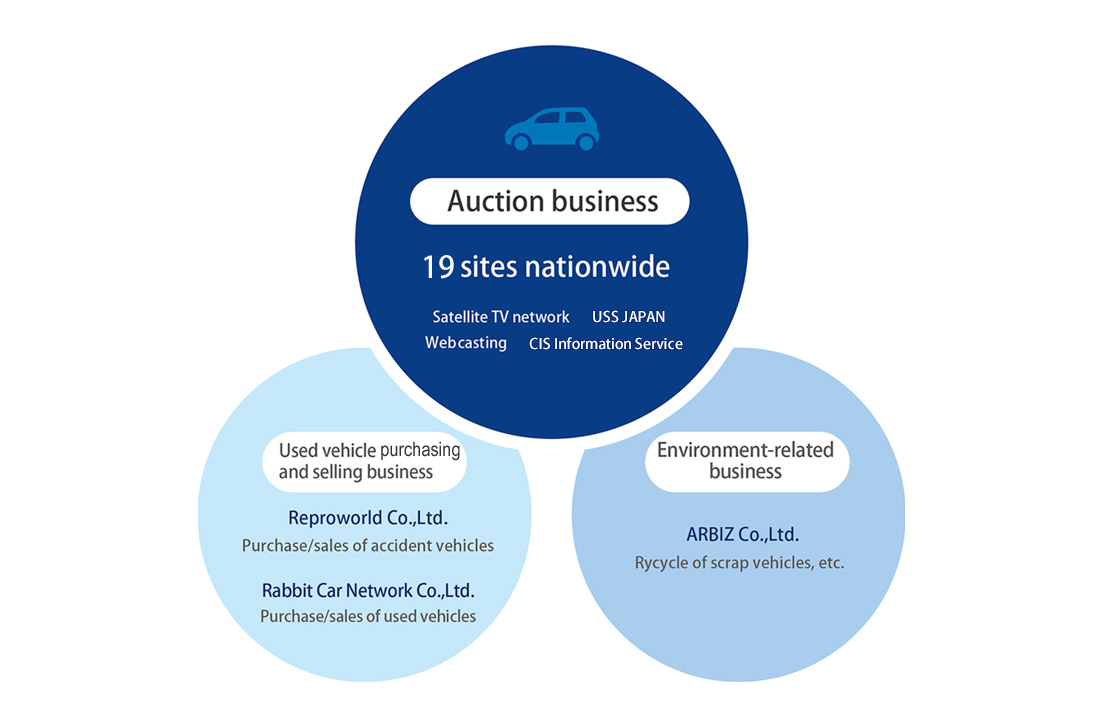 Auction Business
The company helps ensure that used vehicles are distributed without issue by holding used vehicle auctions.
The company also holds satellite TV auctions and Internet auctions, primarily in its 19 on-site vehicle auction sites throughout the country. With 48,362 member companies (as of the end of March 2022) and more than 35% of the Japanese vehicle auction market (39.5% during the Jan.- Dec. 2021 period), the company holds the largest auctions in Japan.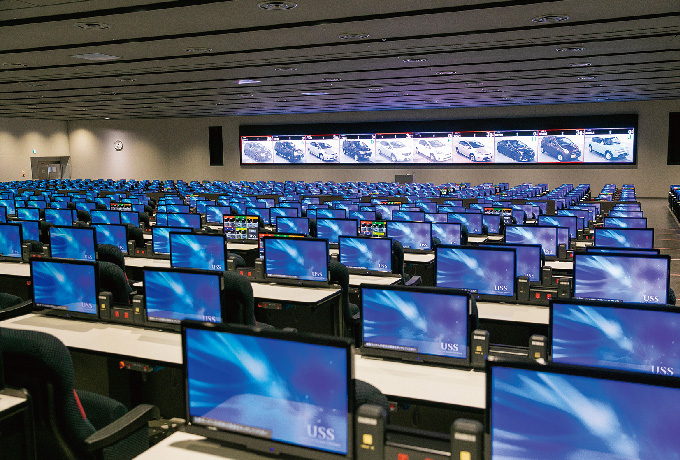 Used Vehicle Purchasing and Selling Business
The USS Group operates "Rabbit," a chain of used car purchase and sales shop with locations all over the country. Quality used vehicles are crucial for vital auto auctions, and the goal of this business is to help ensure that more quality vehicles are brought to auction. For auto auctions, it is important to increase the number of vehicles put on auction and sold, and to win the accolades and trust of members. Plenty of vehicles to sell and buy, and many members participating, is proof of a bustling auto auction.
Used vehicles purchased directly from end users are put on auction or sold, or in some cases retailed.

Recycling Business
USS also holds special auctions for older vehicles or vehicles with heavy mileage.
Vehicles won during these auctions are put to various uses both inside and outside Japan, such as being used for parts or stripped down for recycling.
ARBIZ Co., Ltd., a subsidiary of USS, has established its own proprietary recycling system. In its efforts to recycle retired vehicles and small home appliances, the company has continued to develop technology and, as a result, has developed technology to reuse shredder dust for sale as a recycled product.