Top Commitment
Dedicated to more progress of the used car auction market centered on fairness and honesty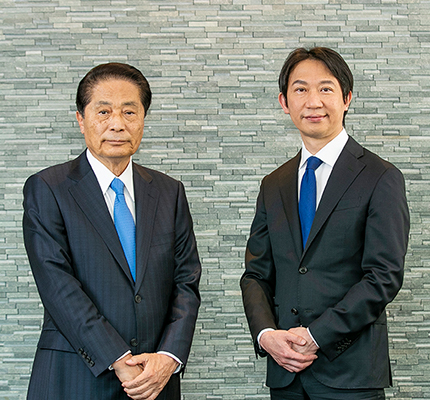 Chairman and Representative Director, Chief Executive Officer
Yukihiro Ando
President and Representative Director, Chief Operating Officer
Dai Seta
USS was established in 1980 by five people who all firmly believed that used car auctions needed to be fair and equitable. Since then, these two qualities have been at the heart of our operations. Creating fair markets is the most important element of our corporate philosophy. This is why we established auction sites that use computers along with our own vehicle inspection standards, which we have been consistently making stronger and more transparent. All of these activities have earned the trust of many used car sales companies.
Auction sites with a large volume of vehicles attract many buyers who are seeking a big selection of quality cars. More buyers usually results in higher sales prices and a higher percentage of vehicles sold at auctions. This makes these auction sites even more appealing and attracts even more vehicles for sale. USS has continuously generated this virtuous cycle of growth while establishing a nationwide network of auction sites with operations that are fair and equitable. Growth was accompanied by the use of a highly advanced auction system for the convenience of our members. This powerful system, which sets our services apart from those of our competitors, is a major reason for our ability to become the leading operator of used car auctions in Japan. Today, we have relationships rooted in mutual trust with many people and companies, including more than 48,000 companies that are auction members. These relationships are the primary source of the power of the USS brand and of our sustained growth.
The automobile industry is undergoing changes of a magnitude that occurs only about once in a century. At the center of these changes are technological advances involving CASE mobility: connected, autonomous, shared and electric. At USS, we view these events as a period of innovation when we can establish the standard for a new age of used car auctions by looking ahead to where today's dramatic changes will take the automobile industry.
To combat climate change, automakers are making enormous investments for the development of next-generation vehicles. These activities, aimed at achieving a zero-carbon society, include battery electric vehicles, fuel cell vehicles, hydrogen-powered cars and other innovations. Many people believe that only a small percentage of cars will have gasoline engines about 15 years from now. Most cars, including used cars, will use electric motors.
Even as the industry shifts to next-generation vehicles, the items that determine the value of preowned cars, such as age, distance driven, exterior dents and scratches,and the condition of the interior, are unlikely to change significantly. We are adapting to the new business climate in many ways, including the use of the digital transformation to make our vehicle inspections for auctions even more thorough. In addition, for a lower environmental impact, our auctions use a business model incorporating the three R's of reuse, reduce and recycle. We plan to continue enhancing this business model in order to make an even bigger contribution to solving social issues.
Taking our business operations and the used car auction industry in new directions is a critical mission of the USS Group. We will continue to take on new challenges to accomplish this mission. Our activities must reflect the magnitude of changes in the automobile industry and the need for activities to fight climate change. To respond to these two megatrends, we are speeding up activities for the digital transformation and sustainability. At the same time, we are retaining our uncompromising commitment to fair and equitable operations in order to conduct auctions that earn the trust of our members and the public. We are confident that this stance will position the USS Group for more accomplishments and growth in order to meet the expectations of all our stakeholders.
October 2021