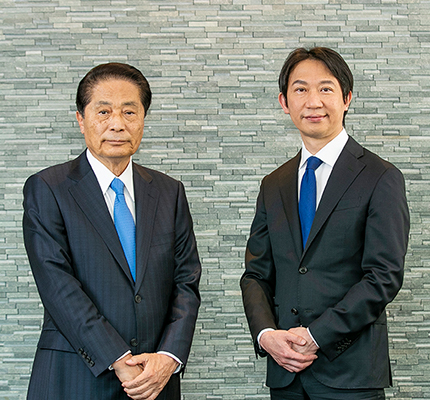 Chairman and Representative Director, Chief Executive Officer
Yukihiro Ando
President and Representative Director, Chief Operating Officer
Dai Seta
One aspect of the dramatic changes in our lives caused by the COVID-19 pandemic is a renewed recognition of the value of automobiles as a means of transportation that allows for a safe distance from others. This perception has created strong demand for the ownership of cars. Rapid digitalization of the operations of all industries is also affecting our business climate. On a global scale, the speed of decarbonization measures is increasing in response to demands for actions to combat climate change.
Since our inception, we have embraced the spirit of "constantly taking on new challenges." Through the years, USS has used this mindset as the driving force for the creation of value as we took on the challenge of implementing many innovations and other forms of progress. The digital transformation is currently a major source of these innovations. For example, we are using digital technologies to inspect even more thoroughly every vehicle at our auctions. Fair and accurate vehicle assessments are essential for used vehicle auctions. Using digital technologies makes it possible to look for problems that cannot be discovered visually. We have also replaced paper vehicle information forms with a digital format. Digital information is more convenient for our members who purchase vehicles and allows us to operate auctions more efficiently. Furthermore, we are studying ways to utilize the big data about used cars that we have accumulated over many years for a broad range of applications.
USS plays a central role in maintaining a reliable and efficient infrastructure for the reuse of vehicles. We are proud be part of measures for creating a society where products and materials are recycled, which contributes to progress involving ESG and the Sustainable Development Goals. A sound used car market requires a consistent supply of quality vehicles. As one way to supply these vehicles, we operate a nationwide network of Rabbit stores that specialize in buying used cars. Most of the vehicles Rabbit buys are sold at USS auctions. In addition, USS subsidiary ARBIZ operates one of the largest recycling facilities in Japan. Using a fully integrated system, ARBIZ processes end-of-life vehicles in a responsible manner that includes the reuse of parts and recycling of materials wherever possible. This company uses precision sorting and classification equipment to recycle iron, aluminum, copper, rare earths and other metals, plastics and other materials.
Our auction business and used car purchasing and sales business are key components of the infrastructure for reusing vehicles. The USS Group also encompasses the recycling of vehicles that are no longer needed. We look forward to continuing to create new forms of value as a unique corporate group dedicated to using these mobility life cycle activities to help build a circular economy.
October 2021